Handheld Welder IGBT Digital Inverter Technology ARC Welder MMA Welding Gun 110V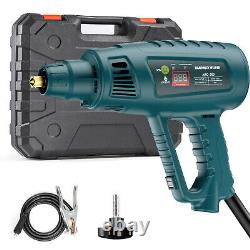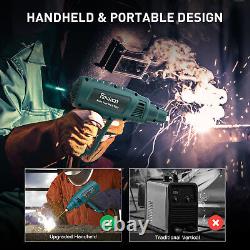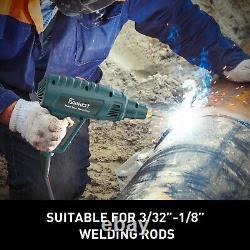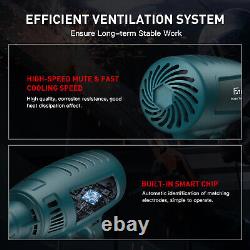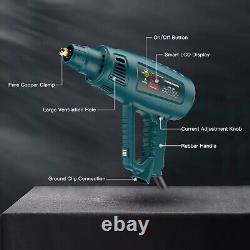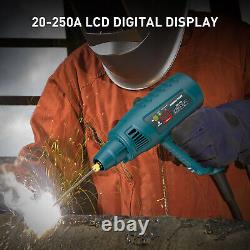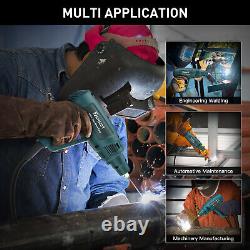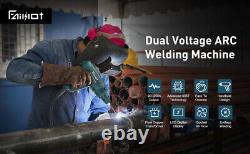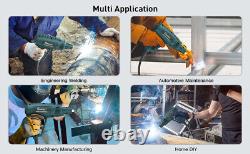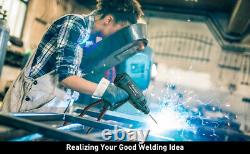 The ARC Welder come with advanced IGBT inverter technology, powerful welder machine capable of welding mild steel, weld steel, stainless steel and cast iron. IGBT power device with unique control mode improves the reliability of welding machine.
Powerful Arc-force provide smoother welding and deeper penetration, keep arc stability. Easy to Operate and Portable Design? Handheld ARC welder, with a easy carrying handle, small size and easy to carry and storage, is the best choice for home welder, this mini welder is perfect for hobbyists to repair items around the house, it is so easy to operate that it can be used by novice or master welder, no matter is it a male welder or a female welder.
ABS material, resistant to drop, heat, good stability, Anti-deformation and no electromagnetic noise. To prevent over heat, over current, over-voltage, under-voltage and short circuit damage to make sure safely operation. The LED digital display will intelligently display the current corresponding to different sizes of welding rods to accurately complete the works and is newbie-friendly. Reduce the damage of copper and iron, the welding frequency is significantly increased, and the energy saving effect is remarkable.
Digital intelligent thrust anti-stick, instant arc starting, non-stick welding rod, closed-loop feedback control, stable output voltage and strong adaptability to the power grid. Suitable For All Size Rod? This welder fit for 1/16", 5/64", 3/32", 1/8", 5/32 All Size Rod (Rod not included).
In PP mode, E6027, E7016, E7018, E8018, etc model welding rod can be used; In PC mode, E6010, E6013, E6020, E5001, E5014, etc welding rod can be used. It is the handheld welding machine that can use the most comprehensive and extensive welding rod. Why do you choose Faiuot ARC WELDING MACHINE? Energy-saving And Stable Heat Dissipation: Whole day welding Is no problem, energy-saving design, outstanding ARC stability with low spatter and deep bath.
Arc welding machine is easy to use, beginner can also operate Well. Handheld & Portable Design: Different from traditional machine, our handheld welder is compact and portable, only 3.7lbs, it support welding with one hand. Come with a carring case, easy to carry to anywhere.
Security Use: Over-heating protection, Over-voltage Protection, Over-current Protection. The welding voltage can be continue adjusting to exactly match welding current. Arc-force provide smoother welding and deeper penetration. IntuitiveFeaturing Controlling Knob: Portable size but big power, It's not just a welding machine but a work of art.
On-off frequency is out of audio frequency, nearly abate the noise pollution, hot-start makes the arc striking easier. Widely Applications: Suitable for welding stainless steel, mild steel, csarbon steel, alloy steel amongst and other metal materials. Perfect for machinery manufacturing, sheet metal processing, guardrail, automotive maintenance, iron processing, large projects, factory, shipyard, home decoration, construction field etc. The welder machine is equipped with high-efficiency and low-cost cutting technology, can be widely used in automobile manufacturing, plumbing work, metal processing, strict construction work, site work, high-quality welding and thin material precision welding. (2.5-3.2mm) welding rods.
The Arc welder fits below 3.2mm welding rods. Welds all types of iron and iron metals, including carbon steel and medium carbon steel. The welding machine has knob to support different current adjustment needs, the current adjustment range is 20250A, one-key adjustment, making your operation more convenient. Weighing in at just 3.7lbs, features dual voltage, Allows for connection to 120- or 240-volt receptacles without tools, allowing you to take it wherever you need to weld.
Easy to carry and operate. There are built-in radiators on both sides of the fuselage and powerful fans at the front and rear, which can speed up heat dissipation when the motor is working, and protect against overheating to prevent damage to the machine. Mini welder is controlled by IGBT Inverter Tech that improves the reliability of portable welding machine and ensures exact current.
Powerful Arc-force provide smoother welding and deeper penetration, keep arc stability, consitant welding current. The handheld welder machine is intelligently controlled digitally and is insensitive to changes in ambient temperature and humidity. Compared to the traditional AC spot welder, it has no interference to the electric circuit and no more tripping problems. Do not touch electrically live parts such as output terminals or internal wiring. Always wear dry insulating gloves. When using the welding machine, remember to open the window for ventilation or exhaust to remove the fumes in the use area and prevent the inhalation of harmful gases.
Do not weld in flammable places. Sparks from the welding machine can cause an explosion. ARC RAY can burn your eyes, please wear protective equipment such as goggles or face shields.

---