5in1 Aluminum 200A MIG Welder With Spool Gun Gas Gasless TIG MMA Welding Machine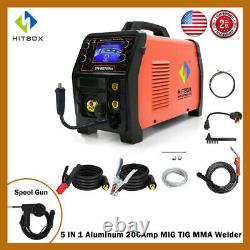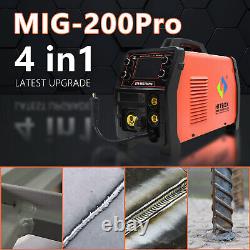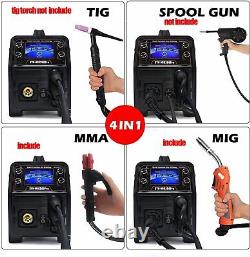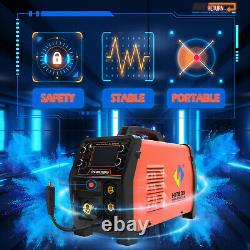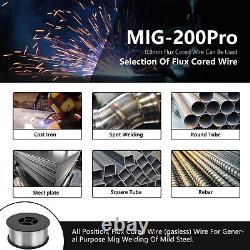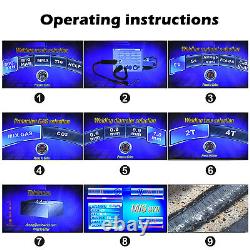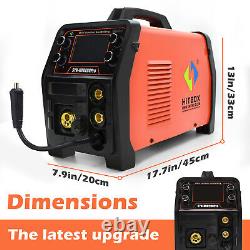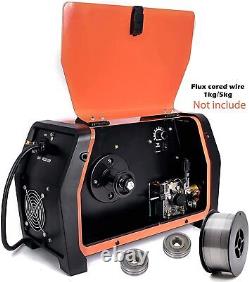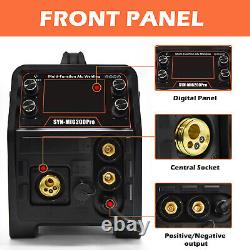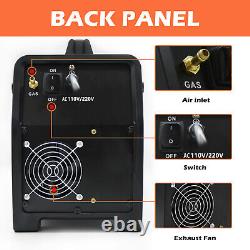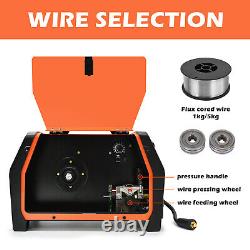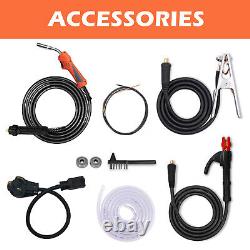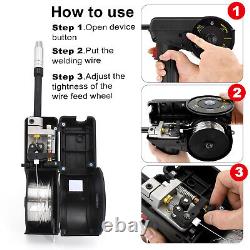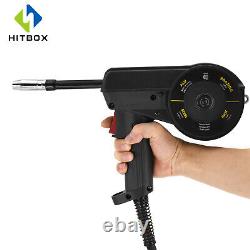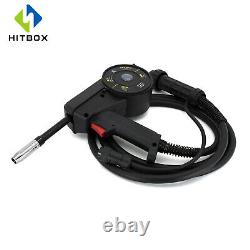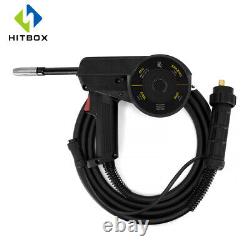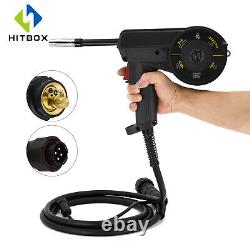 Large-screen LCD display, intuitive and detailed understanding of welding parameters, making work easier, MCU control system, responds immediately to any changes. It can be matched with spool welding gun, fast drawing welding, and improving welding efficiency. The Welder uses the average current control mode, and have general protection functions, for example the limited overshoot, the limit of the pulse width, overvoltage, over-current, over-heating and so on. Those functions obviously improve the stability and security of the welding machine. It will automatically enter the standby state if no load time exceeds three minutes, reducing power consumption. Ways welding parameters to use SYN-MIG200 Pro, 1-Semi-automatic welding. HITBOX 5 in 1 Aluminum 200A MIG Welder With Spool Gun Gas Gasless TIG MMA Welding Machine.
Why you choose SYN MIG200? Non-noise Professional MIG Welder : HITBOX 4 in1 synergic sontrol welder equipped with a digital LCD display and clearly guides every step of the welding process, making welding easy and efficient.
You only need to set the welding mode, material, wires/electrodes/tungsten size, and plate thickness. Noise free - Rescue your ears from the noisy. Aluminum Anti-Stick Welder : HITBOX 200Amp welding machine could weld aluminum, iron, carbon steel, stainless steel, etc. Applies to pipe installments, mold repairs, petrochemicals, architectural decorations, car repairs, bicycles, handicrafts, and general manufacturing. Even beginners can complete any task efficiently and easily with this machine.
Note: Welding aluminum needs to replace graphite conduit liner! MIG/MAG Welder : With high-quality wire feeder to ensure smooth and stable wire feeding. FCAW-S: Means gasless mig welding. It uses 0.6-1.0mm flux wire and suitable for welding 1-6.4mm plates. 2T/4T fuction keeps hands from welding fatigue.
Its welding molten is beautifully formed, more stable arc is, smaller spatter, no stick. Can be used with spool gun. LIFT TIG /ARC Welder : Tig welding is suitable for 1.6 mm and 2.4 mm tungsten. It can be welded with a thickness of 1.0 to 6.4mm.
Tip: Can be used with WP-26V tig torch. Arc welding melts 2.5 / 3.2 / 4.0mm electrodes.
It can weld 1.6-8.0mm plate. Extending the power cord by 160 feet can also resist cable attenuation and still allow the machine to work normally. It is very suitable for operations on construction sites, house maintenance, docks, and even agricultural sites. HITBOX SYN MIG200PRO 200amp 110v/220V Aluminum MIG welding machine 5 in 1 welders: MIG gasless welder? 2 ways to use: Synergy MIG-Set welding parameters: semi-automatic welding-Intelligent recommended welding parameters.
MAN-MIG:adjust parameters by yourself that professional welders like. HD digital LCD display: Clearly show each of your welding parameters, Make welding easier. Output current: 0-200Amp adjustable current, MMA: 170A? Weldable metal wide range: Iron, carbon steel, stainless steel, aluminum silicon(Al&Si), aluminum magnesium(Al&Mg), copper silicon, copper magnesium and other metals. Brand:HITBOX - Model:SYN MIG200 PRO - Package weight: 16.70KG(36.80LB) - Package size:52X29X47.5cm(20.4711.4118.70in) - Inverter technology: IGBT - Rated input voltage (V)-110V/220V - Frequency (HZ)-50/60 - Rated input power (KW)-MIG: 5.7; TOG: 4.37; MMA: 6.3 - Rated input current (A)-MIG: 36.0; TIG: 28.1; MMA: 40.5 - Rated input apparent power (KVA)-MIG: 7.8; TIG: 6.21; MMA: 8.9 - Welding current adjust range (A)-10 200 - Welding voltage adjust range (V)-10 26 - Duty cycle 40?
10min-25%, 200A; 60%, 150A; 100% 130A - No load voltage (V)-50V (adjustable) - Power factor-MIG: 0.73; TIG: 0.70; MMA: 0.71 - Efficiency(%)-=80% - Protection class-IP23 - Insulation class-F - Cooling:AF - Wire diameter(m): Fe: 0.6/0.8/1.0; Ss: 0.8/1.0; AI: 0.9/1.0; Flux: - 0.9/1.0/1.2 - Electrode Type:6013;7018;7014 etc - Wire diameter: 0.6/0.8/1.0mm(1kg/5kg) - Welding thickness: 1-12mm - Electrode Diameter(mm): ø2.5, ø3.2, ø4.0 - Welding materials: Iron, stainless steel, aluminum, galvanized sheet, carbon steel, copper and other metals. MIG FUNCTION:MIX GAS can use 0.6/ 0.8/ 1.0/ 1.2mm flux wire. It can weld 0.7 6.4mm thickness. GAS (CO2) can use 0.8/ 1.0mm wire. Can weld 0.9 6.4mm thickness. TIG FUNCTION:Can use 1.6mm and 2.4mm tungsten. Can weld 0.7 6.4mm thickness. ARC FUNCTION:Current 10 170 amp.
Can weld 2.5/ 3.2 mm electrode. Can weld 1.6 3.4mm thickness. 1X SYN MIG200 PRO Mig welder.
1X Welding brush/ hammer combo. 1X 110V to 220V convert plug.
1 X 0.6mm/0.8mm V shape drive roller. 1 X 1.0mm/1.2mm U shape drive roller. 1X Graphite wire feed tube:when welding aluminum, please do use it with the mig gun.
Item Processing Time: The processing time for a specific order varies with the product type and stock status. All our item offer 7 days return peroid, defective or non-defective. Return must include all original package and accesorries, item must in good condition. If you have any issue, you can just give us a message, and we give you full resolve. Please be patient when contacting us, all messages will be replied within 24 hours. Please let us know immediately if a package is damaged upon arrival. This item is in the category "Business & Industrial\CNC, Metalworking & Manufacturing\Welding & Soldering Equipment\Welding Equipment & Accessories\Welders, Cutters & Torches\MIG Welders". The seller is "digta-25" and is located in this country: US. This item can be shipped to United States.
Brand: HITBOX
Welding Process: MIG
Welded Material: Aluminum,Iron, stainless steel
Features: Gasless, With Gas
Voltage: 110V 220V
Item Type: MIG Welder
Country/Region of Manufacture: China
Model: SYN MIG200 PRO
Multi-process: YES
Rated input voltage: 110/220V
Rated input current (A): MIG: 36.0; TIG: 28.1; MMA: 40.5
Output no-load voltage (V): 50V (adjustable)
Efficiency: ≥80%
Electrode Type: 6013;7018;7014 etc
Inverter technology: IGBT
Rated input voltage (V): 110V/220V
Frequency (HZ): 50/60
Rated input power (KW): MIG: 5.7; TOG: 4.37; MMA: 6.3
Rated input apparent power (KVA): MIG: 7.8; TIG: 6.21; MMA: 8.9
Welding current adjust range (A): 10 ~ 200
Welding voltage adjust range (V): 10 ~ 26
Duty cycle (40℃ 10min): 25%, 200A; 60%, 150A; 100% 130A
No load voltage (V): 50V (adjustable)
Power factor: MIG: 0.73; TIG: 0.70; MMA: 0.71
Efficiency(%): ≥80%
Protection class: IP23
Insulation class: F
Wire diameter: 0.6/0.8/1.0mm(1kg/5kg)
Welding thickness: 1-12mm
Welding materials: Iron, stainless steel, aluminum...
Package weight: 16.70KG(36.80LB)
Package size: 52X29X47.5cm(20.47*11.41*18.70in)

---