MIG /TIG /PLASMA ARC WELD PRO 250 amp AC/DC, pulse sq wave, MIG ALUM, SS, STEEL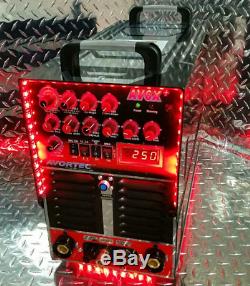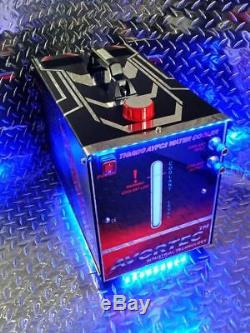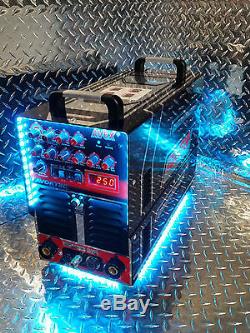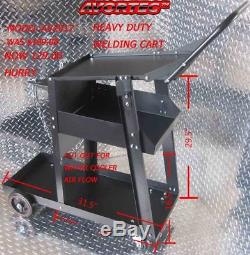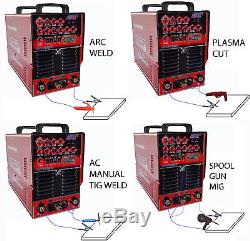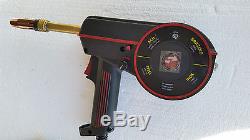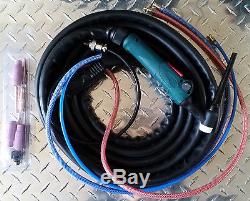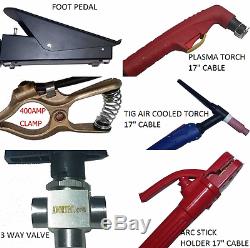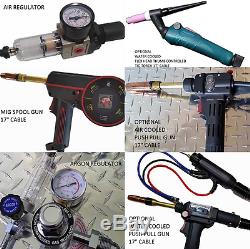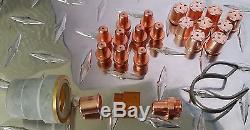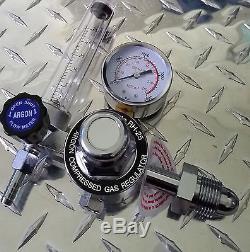 NOW WITH PULSE MIG SPOOL GUN== WELD ALUMINUM, SS-STEEL , STEEL. AC/DC TIG/pilot arc PLASMA cutter/stick welder ALL IN ONE AND MORE options AVAILABLE for upgrading to tig auto wire feeder. 8lb to 46lb spools of wire , and mig line feeders, water cooled to air cooled. LED 40 COLORS, REMOTE HANDHELD, PROGRAMMABLE LED COLORS , 20 AUTO MODES , AV6X+MIG PRO MACHINE AND COOLER TO MATCH WITH LED'S.
++ 250 AMPS AT 100 % DUTY CYCLE-AC/DC SQUARE WAVE PULSE TIG. ++ 60 AMPS AT 100 % DUTY CYCLE AC-PILOT ARC PLASMA CUTTER-CUT CLEAR UP TO A FULL 1 3/8"THICK METAL-YES WELL OVER 1" THICK to 1 3/8.
++250 AMPS AT 100 % DUTY CYCLE ARC AC/DC- DC+ OR DC. ++250 AMP MIG PULSE SPOOL GUN- WELDS =ALUMINUM, SS-STEEL, STEEL, GAS WIRE OR INNER CORE WIRE. ++Adjustable SOFT amp tig START.
++HD-WATER COOLER WITH 40 COLOR LED TO MATCH MACHINE, WITH WATER COOLED FLEX HEAD REMOTE THUMB AMPERAGE CONTROL TIG TORCH. ++ HEAVY DUTY WELDING CART -RATED HD FOR HOLDING 150LBS TOP TRAY-CUSTOM CUT OUT FOR WATER COOLER AIR FLOW -RUBBER WHEELS AND SWIVEL CASTERS.
++ARGON FLOW REGULATOR AIR AND GAS LINES. ++ 3 WAY VALVE FOR SWITCHING BETWEEN GAS AND AIR. FORD BODY PANELS READY FOR REPAIRS OF ALUMINUM BODY PANELS. YES WE ARE THE ONLY ONES TO OFFER A spool gun MIG WITH PULSE AS A ALL IN ONE BUILT TOUGH AND BUILT RIGHT FOR YEARS AND YEARS OF OPERATION IN A FACTORY SETTING.
FOR STEEL OR ALUMINUM , SS STEEL. AVORTEC AV6x+MIG 250AMP 375 PULSE-PULSE-AC/DC-DC 250-Amp TIG Welder, 60Amp-Pilot Arc-PLASMA CUTTER, 250-ARC Welder COMBO PRECISION ALUMINUM TIG, - upgradeable to water cooled tig torch (optional) model AV6x+ PULSE SQUARE WAVE TIG WELD AUTOMATICALLY WITH OUT FOOT PEDAL!! BUT the PEDAL IS INCLUDED in this package. Our Av6x+MIG SPOOL GUN ALUMINUM, STEEL, SS STEEL is 100% duty cycle at 250 amps-IT'S built right and built to last! AC OR DC WITH PULSE.
==== IF YOU ARE WELDING NON STOP WITH THE AIR COOLED TIG TORCH YOU WILL NEED TO LET IT COOL FOR A DURATION , WE HIGHLY RECOMMEND THE WATER COOLED SYSTEM FOR NON STOP TIG WELDING , THIS MACHINE HAS A 100% DUTY CYCLE ==. ====NOTE A 30% TO 60% duty cycle welder IT IS built cheaper and will not last! A DUTY CYCLE IS MEASURED IN 10 MINUTE RUN AT FULL AMPERAGE, IF A WELDER HAS ONLY 30% DUTY CYCLE IT CAN ONLY RUN FOR 3 MINUTES AT PEAK AMPERAGE AND MUST COOL FOR ROUGHLY 7 MINUTES.
THIS MEANS THEY HAVE BEEN BUILT CHEAPLY OR HAVE BAD COOLING OR JUST PLAIN CHEAP COMPONENTS. SO I SAY BUILD IT RIGHT AND OVER BUILD IT AS WE HAVE TO WORK LIKE IT SHOULD WITH A 100% DUTY CYCLE- IT WILL LAST THEN!! NEED MORE INFO GIVE US A CALL OR LOOK TO OUR WEB SITE AVORTEC DOT COM. THIS AV6X IS HIGHLY ADVANCED HIGH TECH MACHINE.
TIG Welder - 250 AMP AC-AC/DC-DC TIG Welder-"FOOT PEDAL CONTROL INCLUDED"! PLASMA CUTTER- 60AMP Pilot Arc Start - burn through the rust or paint instantly to cut now! ARC/MMA Welder - 250 AMP ARC Welder DC- OR DC+ OR AC/DC MODES 3 MODES OF ARC WELDING. Features -Pluse-square wave-ANTI crater control, ect, ect.
UP AND DOWN SLOPE, BEAUTIFUL WELDS EVERY TIME. Advanced Power Technology Built In - Hi-tech Circuity. 100% DUTY CYCLE ON TIG ALUM, STEEL AT FULL 250AMP allows you to weld continuously.
TIG /ARC Welds ALL Metals Quickly And Easily. PLASMA CUTTER CUT THE METAL NOW!!
BURNS PAINT AND SCALE AWAY BEFORE MAIN PLASMA STREAM ENGAGES. Digital knob Controls-MAKES FOR QUICKER ADJUSTMENTS ON THE FLY, And LED Digital Display! TIG Welder - Uses a Tungsten ROD, Argon gas, and electricity FREQUENCY to weld MOLT THE metal'S TITANIUM, STAINLESS STEEL, ALUMINUM, CAST, Gold, silver, COPPER, STEEL, INCONEL- HARDEST MAN MADE METAL , CUSTOM METALS CAN BE DIALED IN FOR ACCURATE TIG WELDING.
ARC/MMA STICK Welder - AC/DC MODE, DC-, DC+ WELDING MODES, Use standard TO EXOTIC welding rods to weld metal including steel, and aluminum USE DC- REVERSE. CUT METAL UP TO 1 3/8 OR MORE!
YES WAY OVER 1 PLUS INCH TO 1 3/8 INCH THICK METAL. Easily TIGS metal up to 1/16" and even 3/4". OR MORE GIVE YOUR SKILL SET. Easily TIG /ARC WELD most any metal including: steel, stainless steel, aluminum, TITANIUM brass, gold, silver, copper, iron and cast iron.
Power Supply - 220V/50A Power Supply. Requires 50 Amp circuit breaker. Outperforms most standard 110V/220V welders. We have tested other manufacturers 110/220V welders and found they do not perform on standard 110/15Amp circuits.
A 220V/40 50Amp circuit breaker is recommended to perform as specified. 40 amp will do nicely. Ultimate TIG Welder and ARC WELDER and Plasma Cutter Tomorrows High Tech Today. The AVORTEC Advanced Power Technology welder and plasma cutter represents a leap forward in metal fabrication equipment.
With digital controls for accurate cuts and welds on a broad range of materials every time you will increase your productivity and quality on everything you cut and weld. WHATS COMES IN THE BOX , ALL THE BELOW STATED. FREE SET OF PLASMA CONSUMABLES 10inners tips 10 outer's tips. FREE 3 WAY VALVE -NEVER UNHOOK YOUR LINES FROM YOUR BOTTLED GAS OR AIR COMPRESSOR AGAIN WE ARE THE ONLY ONES THAT HAVE DONE THIS FOR OUR CUSTOMERS , SIMPLY TURN A VALVE AIR TO ARGON OR VICE VERSA. Advanced Electronically HF- Activated TIG AND PLASMA Torch.
400 amp HD GROUND CLAMP Cable. ARC/MMA Welder Electrode Holder Handle.
Power Cable 220V - 7 Ft. ARGON/CO2 flow REGULATOR free included!
COMES WITH ALL THE ABOVE LISTED and pictured , unless noted as optional equipment, AT THE TOP OF PAGE. IF NOT ALREADY LISTED HERE, YOUR LOADED WITH THIS SYSTEM PACKAGE. AND WITH THIS YOU CUT, TIG, MIG ARC WELD!!!! NEW and in the box. We engineer these to be the best and stand behind our products. About AVORTEC Avortec advanced power technology products utilize top quality materials, and high tech materials.
We design, engineer and test all our products. All other trademarks are the property of their respective owners.
TIG WELDER, ARC WELDER PLASMA CUTTER MIG SPOOL GUN PULSE. The item "MIG /TIG /PLASMA ARC WELD PRO 250 amp AC/DC, pulse sq wave, MIG ALUM, SS, STEEL" is in sale since Thursday, March 15, 2018. This item is in the category "Business & Industrial\CNC, Metalworking & Manufacturing\Welding & Soldering Equipment\Welding\Welders, Cutters & Torches\MIG Guns & Torches". The seller is "avortec" and is located in Perry, Michigan. This item can be shipped to United States.
Model: AV6+MIG SPOOL GUN PULSE AC/DC ALUMINUM
Country/Region of Manufacture: United States
Type: TIG/MIG/PLASMA/ARC PULSE SQ.WAVE
MPN: AV6X+SPOOL GUN MIG/TIG ALUMINUM/PLASMA PILOT ARC
Brand: AVORTEC AV6X+MIG ALUMINUM PULSE

---